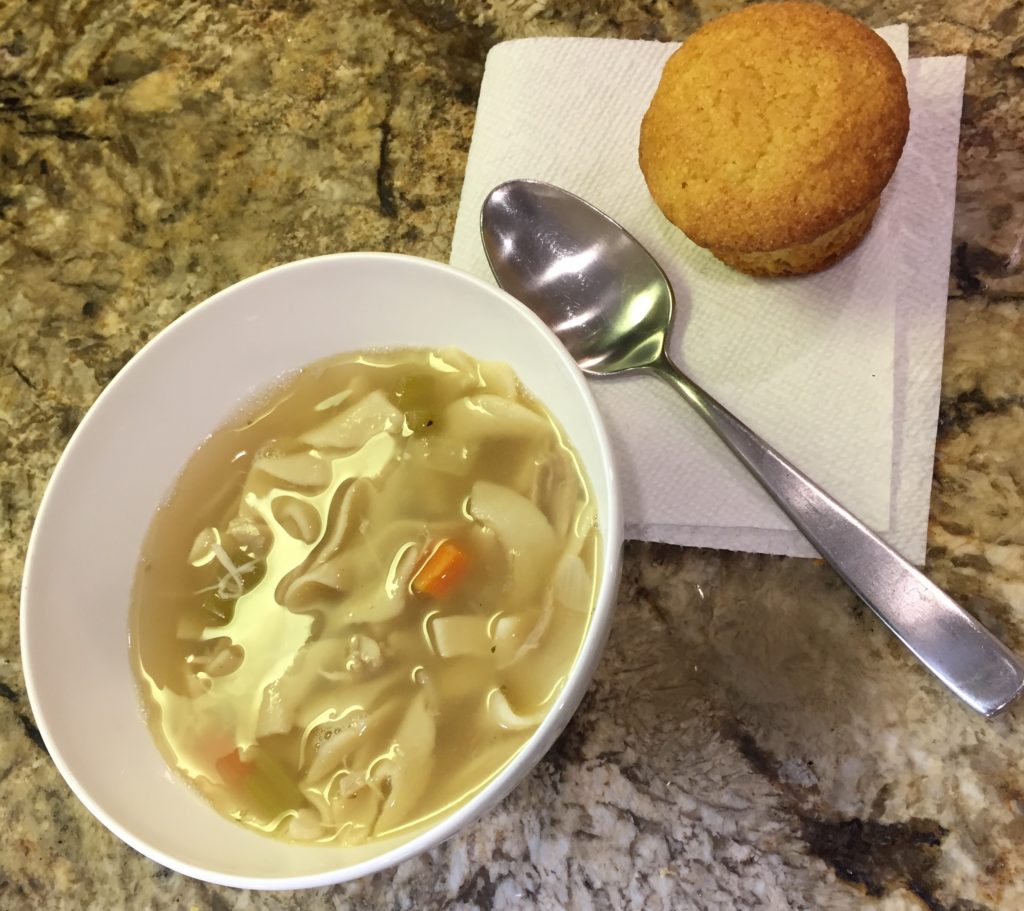 Continuing from our Whole Roasted Chicken recipe in step one, we move on the harvest all of the edible meat from the roasted chicken, the vegetables we set aside from that recipe and add 2 simple ingredients to make a delicious and easy chicken noodle soup from scratch.
Additional Ingredients (as well as the Whole Roasted Chicken recipe):
Roasted chicken meat from the Whole Roasted Chicken recipe above.
3 stalks celery, roughly chopped.
4 carrots, peeled and roughly chopped.
1 large yellow onion, peeled and finely chopped.
2 cloves garlic, minced.
1 bag Egg Noodles OR 3 cups white rice.
Cornbread muffin mix
Use the remaining ingredients from the whole roasted chicken above. Remove all of the meat from the chicken breasts, thighs, wings and legs and set into bowl. Return all remaining parts of chicken back into the pan that the chicken was roasted in. This will be the pan you start to make the stock in.
Heat a large pot over medium high heat and add 2 tbsp olive oil until shimmering. Add chopped onion and sauté until soft (3-4 min). Add chopped celery, carrots. Mince garlic and add to pot. Continue to sauté for 4-5 min.
Add chicken meat, 1 tbsp salt and pepper to taste to pot. Add 12-16 cups of hot water and bring to a rolling boil. Once boiling, reduce to a simmer, cover and allow to simmer for 1 hour.
Set a second timer for 40 minutes. When this goes off, add the entire bag of egg noodles or the white rice to the pot. Allow to cook for an additional 20 minutes.
Optional: Mix cornbread muffin mix, spoon into paper lined cupcake tray and bake for up to 15 minutes until golden brown. This should be ready by the time the soup is done.
Serve soup and cornbread. After serving, clean large pot as we'll need it for the fresh chicken stock as part 3 of 4.