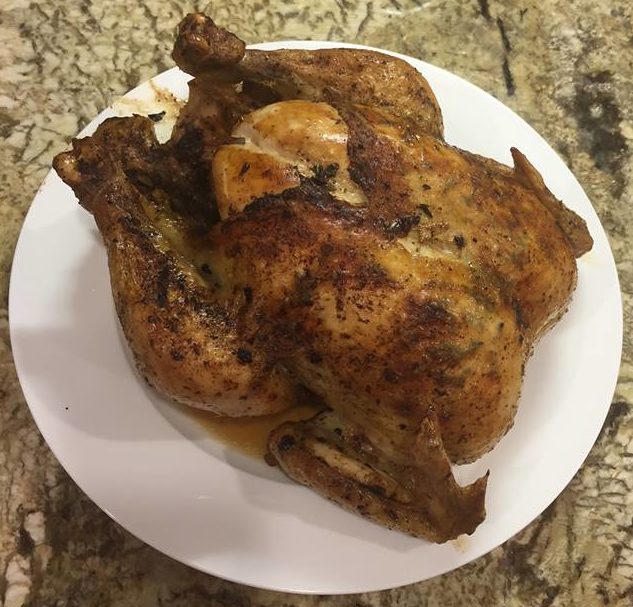 Part 1 of the series of 4: Whole Roasted Chicken
There's no long-winded story about childhood memories of the smell of the kitchen here, because let's be honest: who doesn't love roasted chicken? Crispy skin, tender and juicy herbed meat? Let's cut to the chase and roast!
1 whole chicken (5+ lbs) – prep: pat dry, set aside gizzards and internals as we'll use them.
Whole celery stalk (6+ sticks) – prep: rinse, rough chopped into 1/2″ pieces.
6 carrots – prep: peel and rough chop into 1/4″ pieces.
1 white or yellow onion, medium chopped.
6 cloves garlic – prep: peel.
1 whole white or yellow onion – prep: peel and chop.
3/4 stick butter – prep: soften by setting out or in microwave.
Herbs, dried or fresh:

1 tbsp or 2 sprigs Rosemary
1 tbsp or 2 sprigs Thyme
1 tbsp or 2 sprigs Sage

2 Lemons, cut into 4-6 slices each.
Salt and pepper to coat the skin of the chicken
1 tbsp salt, 1 tsp pepper inside the bird cavity.
Olive oil
Pre-heat oven to 425F. Soften the butter and add to a small bowl. If you're using dried herbs, add to butter and blend with a fork. Season with 1 tsp salt and pepper.
Dry the chicken, removing any internal organs included in the cavity and set them aside. Sprinkle 1 tbsp salt and 1/2 tbsp pepper inside the cavity.
In an oven-safe pot or roasting pan, sprinkle 1 cup of carrots, 1 cup of celery, 1 cups of onions and 3 cloves of garlic with 2-3 tbsp of olive oil.

Add internal organs, mix all pan ingredients with salt & pepper.
Place the chicken, breast side facing up, into the pan. Slide fingers under the breast skin to allow inserting 3-4 tbsp of herbed butter between breast meat and skin. Coat the outside of the chicken skin with the remaining herbed butter.
Roast chicken for 1 hour or until a probe thermometer reads 165F in the breast meat. Remove pan and allow chicken to rest for 5-10 minutes.
Quarter chicken, remove breast meat and any usable tender meat. Set skin aside.
At this point you have a delicious roasted chicken available to serve with roasted or steamed vegetables. If need be, you could stop right here.
Next step: Turn the entire chicken into chicken noodle soup… and then homemade chicken stock.